Details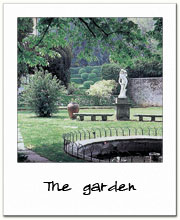 The farmhouse and outbuilding of the estate have fully been renovated to provide comfortable and modern accommodation. Two of these houses are available to tourists throughout the year.
The Villa and gardens can also be used for those wishing to immerse themselves in bygone days. Consequently, weddings, dinners and other special occasions can be organised.
Nearby, on the land belonging to the estate, there is a small golf course of about 2.5 hectares and private Tennis-Club at about 100 Mts. distance which has 8 cover courts, 2 swimming pool open all year round, on for adults with diving board and one for children. There is also a fully equipped gym with indoor courts for volley ball and basket ball etc.