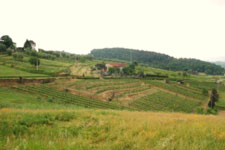 Easy bike & wine tour
Start: ore 9.30 a.m.
Days: March to October /
Monday to Friday
(other dates on request)
Meeting: via Elisa 28, Lucca
Difficulty: easy
Length: aprox. 3,5 h Km: 27;
Acc. altitude: 90 m;
Terrain: asphalt + dirt road
Price: from € 50 per person.

Included: trekking bike, helmet, tour leader, winery guided visit and wine tasting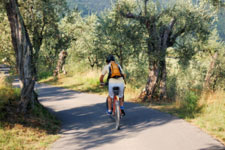 Hybrid bike and wine tour
DESTINATION: Lucca hills
BIKE: hybrid bike
TOTAL KM: from 25 to 50 km
TERRAIN: asphalt/large dirt road
ACC. CLIMB: 250 to 1000 m
TYPICAL PROGRAMME:
- start from Lucca centre
- biking along Lucca and the walls
- uphill and downhill in Lucca countryside
- guided visit of the winery with wine and oil tasting (oil only in some farms)
- return to Lucca
LENGHT: 5 hours
DEPARTURE FROM: Lucca centre


...biking and tasting Tuscany

...biking freely in the open air and stopping for tasting good wines and food are a wonderful way to relish the beauties of nature.
Tasting after an effort in harmony with the landscape makes it all wilder and more enjoyed. Naturally it would not be wise biking a lot or climbing after drinking wine, so these itineraries are planned in order to reach the farm after the biggest effort.
We propose 2 different kinds of bike and wine tours in Lucca, depending on the route difficulty:
- An easy bike tour to reach a winery about 10 km from Lucca city centre, arriving at the foot of the hill and climbing for one or two kilometres (depending on which winery we select ).
- A longer bike tour with hybrid bikes, on country roads, going up and down for Lucca hills until we decide to stop and relax in a farm winery.
- A mountain bike tour on hard dirt paths and single tracks, reaching hills picks and going downhill to have a deserved wine and food tasting.
Wineries may change according to their availability or to our customers' specific requests.