Florence tour
craft workshops
DESTINATION: Florence
TRANSFER: Mercedes minivan
TYPICAL PROGRAMME:
- Pick up at your accommodation
- Stop in Piazzale Michelangelo
- Visit of Florence (minivan at your disposal for any need)
- Guided tour in Oltrarno through ancient craft workshops
- Return to Lucca in the afternoon
details and prices
Florence tour
DESTINATION: Florence
TRANSFER: Mercedes minivan
TYPICAL PROGRAMME:
- Pick up at your accommodation
- Stop in Piazzale Michelangelo
- Visit of Florence (minivan at your disposal for any need)
- Return to Lucca in the afternoon
details and prices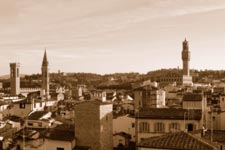 ...Florence and surroundings
A whole day in Florence to visit its wonderful museums and do shopping.
An infinite number of boutiques, workshops and the traditional San Lorenzo and Porcellino markets will delight also the most pretending people among the group.
A stop at Piazzale Michelangelo, before reaching the city centre will allow you to have a fantastic view of Florence from this famous hill: Ponte Vecchio, Palazzo Vecchio, Santa Croce will seem very small and the town will look like a picture!
Then you will visit the main sights of the city centre, from Piazza della Signoria to Ponte Vecchio, passing by the picturesque markets of Porcellino and San Lorenzo, where an incredible quantity of items is exposed on the old stalls!
We usually suggest to use minivans up to 7/8 seats, that are licenced to drive in the city centre and reach places like Duomo and Uffizzi.
For lunch, a gourmet stop in one of the thousands restaurants and "trattorie" of the city centre will delight everybody!
If you wish, in the afternoon, you could visit the "other Florence", the working class neighbourhood of Oltrarno and its ancient craft workshops.
The Oltrarno is an open-air museum and an extraordinary legacy of traditions.
In the maze of workshops occupied by craftspeople and small businesses, imagination and creativity reign supreme, and a mix of manual ability, intuitive flair and good taste yield some truly unique results.
You will be guided by an expert tourist guide, who will disclose you 3 different workshops (according to the availability of the artisans, we will try to choose what kind of artisans to visit), where you will also be able to do some special shopping!
Also, if you are particularly interested in tissue, we could reserve a very special visit to the "Antico Setificio Fiorentino", an artistic textile factory.