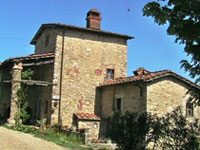 We start our easy walking in Podere Le Rose organic garden to discover aromatic herbs, different varieties of olive trees, with explanation about how to recognize them and use them.
Then we continue our walk through vineyards discovering different vine trees and we reach a "boutique winery" familiar estate where you can enjoy your wine and oil tasting in their garden.
We come back to Podere Le Rose for a meal, for eating typical Italian products, tasting and learning how to serve extravergin olive oil, balsamic vinegar, bread, Italian cheeses ( pecorino, parmigiano, mozzarella di bufala, ricotta ect.) , salami (Tuscan salami, finocchiona), Tuscan prosciutto, Tuscan bread ,focaccia and typical Tuscan dessert (Cantucci with Vin Santo), accompanied by Simonetta or Paola who are more than willing to share their knowledge and passion for their native land.

Details
Starting Time : 9:30 am or 2:30 pm  (4:00 pm in summer) – All year round
Duration: aprox. 4 hours
Depart / Meet: Podere Le Rose (Chianti)
Number of Participants : minimum 2 persons
Cost includes : walking tour, wine and oil tasting ,  English speaking guide, personal driver, meal at Podere le Rose farmhouse
Price € 160 per person