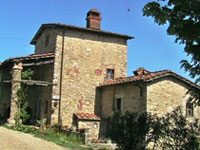 In the morning, guided visit to a winery where you will learn all about wines, from their origin to today's days.
Lunch at Podere Le Rose, a familiar farmhouse, eating typical Italian products, tasting and learning how to serve extravergin olive oil, balsamic vinegar, bread , Italian cheeses ( pecorino, parmigiano, mozzarella di bufala, ricotta ect.) , salami (Tuscan salami, finocchiona), Tuscan prosciutto, Tuscan bread ,focaccia and typical Tuscan desserts (Cantucci with Vin Santo).
In the afternoon, guided visit to another winery where you will enjoy a wine and oil tasting, accompanied by Simonetta or Paola who are more than willing to share their knowledge and passion for their native land.
Details
Starting Time : 10:00 am
Duration: aprox. 7 hours
Number of Participants : minimum 2 persons
Cost includes : visit to 2 wineries with wine tasting of  their production , tasting lunch at Podere Le Rose, personal driver, English speaking guide.
Price € 200 per person