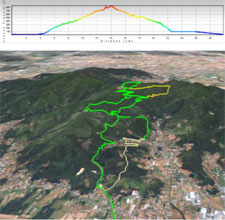 Monti Pisani mtb tour
DESTINATION: Monti Pisani
BIKE: mountain bike
TOTAL KM: about 30 km
TERRAIN: dirt road/single tracks
ACC. CLIMB: 1000-1200 m
DIFFICULTY: Good skills required for steep ascents and technical descents
SKILL LEVEL: High
FITNESS LEVEL: High
TYPICAL PROGRAMME:
- start from Lucca
- biking along....
- climbing to the peak
- relax in a large meadow
- downhill on single tracks
LENGHT: 3/5 hours
DEPARTURE FROM: Lucca centre
details and prices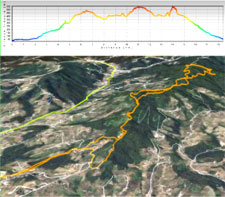 Lucca hills mtb tour
DESTINATION: Lucca hills
BIKE: mountain bike
TOTAL KM: 25 to 35 km
TERRAIN: dirt road/single tracks
ACC. CLIMB: 600 to 1000 m
DIFFICULTY: Good skills required for steep ascents and technical descents
SKILL LEVEL: High
FITNESS LEVEL: High
TYPICAL PROGRAMME:
- start from Lucca
- biking along Serchio river to reach Lucca hills
- uphill and downhill between woods, olive groves and vineyards
- wine tasting or lunch on request (see bike and wine)
LENGHT: 3/5 hours
DEPARTURE FROM: Lucca centre
details and prices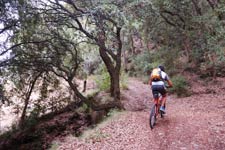 ...real mountain bike in Lucca

...this is real mountain bike, this is for people who hate asphalt and prefer walking some more meters carrying bike on their back than running across easier roads where everybody go through!
We start from Lucca city centre, so, obviously, early kilometers are on asphalt, a good chance to warm up!
When we can choose between more trails we usually decide to climb on dirt roads or jeep tracks to limit fatigue (even if trails are often very steep); but naturally we love to downhill on single tracks! Our passion is looking for and exploring continuously new and better paths for your and our fun!
Now we propose two tours in two main different directions:
-one on Monti Pisani going towards southern Lucca;
-one on Lucca hills in the north-west area
Monti Pisani mountain bike tour
We reach Monti Pisani feet, between Lucca and Pisa. From here we climb up dirt roads/jeep roads/single tracks to the peak (853 mt) to have a great view of all the plain around Lucca untill the sea close to Pisa. Just before the top there's a large green meadow, provided with a big rustic grill, where open air lovers have picnic and spend their sunny days, and a typical trattoria, where we can have a great lunch! (on request) Way back is characterized by fast and sometimes technical single tracks to the end. So this tour looks like a long tiring ascent on the way there and a long enjoyable single tracks on the way back.
Colline Lucchesi mountain bike tour
Differently from Monti Pisani, here we go towards Lucca hills, rich in villas and vineyards, to climb up to 500 mt and then ride up and down on singletracks. The tour is a little easier because we don't have to climb the total ascent on the way there and single tracks are less technical. There's the possibility to stop in a farm or in a trattoria to have an unexpected wine tasting or lunch on the way back.