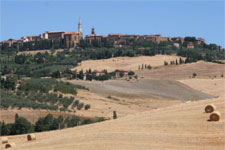 Pienza
We usually propose 2 villages per tour to let travellers quietly enjoy their trip, but we can easily change our programs according to guests requests and villages's distances.
Tuscany's villages
Pienza and Montepulciano
DESTINATION: Montepulciano and Pienza
TRANSFER: Mercedes minivan
TYPICAL PROGRAMME:
- Pick up at your accommodation at 8.30
- Visit to Pienza and lunch in a trattoria or in a farm
- After lunch visit to
Montepulciano
- Return to Lucca in the late afternoon
TOUR LENGHT: 9 hours
details and prices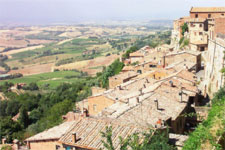 Montepulciano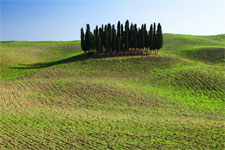 San Miniato
...discovering southern Tuscany
Idyllic atmospheres, warm colors, scents, flavours, bells of some small church ringing...
How to describe Val d'Orcia (Orcia Valley)?
When you visit it for the first time, it seems to get inside an other world, where everything is quiet, pretty, cosy and you understand why this incredible land in Siena area, is considered heritage of the world by UNESCO.
First of all, Val d'Orcia is special in itself for its nature: rolling hills covered by sunflowers and wheat in summer, green and poppied in spring!
But also villages, in this valley, seem to have been projected in harmony with the surrounding landscape! So, along this tour, we will let you enjoy both a leisurely drive in a wonderful countryside and a delightful visit of two famous villages of val d'Orcia (stopping for lunch in a typical osteria): Pienza and Montepulciano. Pienza, situated on a hill viewing the Val d'Orcia's landscape, was created by a famous Pope, Pio II (the name "Pienza" rises from him), who tried to realize the perfect model of town according to the ideals of the Renaissance filosophy.
Famous also for its Pecorino cheese, Pienza will make you fall in love!
Along Montepulciano' s streets, reach in Gothic and Renaissance buildings, you will feel to be in a village of nobles, as noble is its prestigious wine, "Nobile di Montepulciano", produced since centuries in the undrground cellars of the town, that you will visit during the tour!
NOTA BENE: Our tours are planned for small groups,in order to preserve the environment and the quiet villages you visit.
We prefer to use small vans from 7 up to 19 seats