Five stars sailing cruise along Costa dei Poeti, Lerici, Portovenere and Cinqueterre
Two mainly features originated these special sailing cruises along the East Ligurian coasts: Annamaria's love for cooking and Alberto's passion for sailing. They will welcome you on board of a splendid Cyclade Beneteau, an over 13 metres sailing boat: 3 double cabins, provided with private shower bathrooms, completely furnished in good taste by the home owners. The proposal is dedicated to 3 couples or a group 6 persons, who want to live a relaxing weekend along the marvellous coast of Golfo dei Poeti, between Lerici and Portovenere, and the enchanting Cinqueterre's cliffs, enjoying the sailing silence, but also good music, excellent fish cooking, unforgettable sea baths and much more…
Also, if weather is not good, you will be able to have excursions on land, visiting Portovenere, Lerici, Cinqueterre, tasting wine at "Cantinae Lunae" winery and planning many other tours along the territory.
Details - Prices - Contact us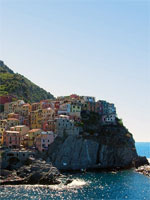 Details

The sailing cruise starts Friday at Ripa Verde, the nautical base at Bocca di Magra , at 6.00 p.m. and ends Sunday at the same place.

- May 18th to May 27th -
- September 28th to October 21st -
6 pax: 415,00 euros per person 5 pax: 460,00 euros per person
4 pax: 535,00 per person 3 pax: 650,00 euros per person
2 pax: 885,00 per person
- June 1st to July 15th -
-August 24th to September 23rd -
6 pax: 430,00 euros per person 5 pax: 480,00 euros per person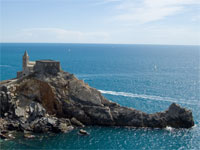 4 pax: 550,00 per person 3 pax: 680,00 euros per person
2 pax: 930,00 per person
- July 20th to August 19th -
6 pax: 455,00 euros per person 5 pax: 510,00 euros per person
4 pax: 590,00 per person 3 pax: 730,00 euros per person
2 pax: 1.000,00 per person

- October 26th to April 2008 -
6 pax: 370,00 euros per person 5 pax: 410,00 euros per person
4 pax: 470,00 per person 3 pax: 560,00 euros per person
2 pax: 750,00 per person

Prices include:
• 2 nights in double cabin with private shower bathroom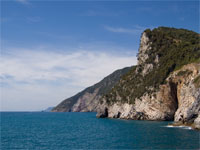 • 2 plentiful breakfasts
• 2 plentiful lunches
• 2 special dinners
• Nautical and land excursions
• Bed, bathroom and table linen
• Final boat cleaning
• Fuel
• Small rubber boat to move from the sailing boat to land
• Skipper
• Boat insurance
• Taxes