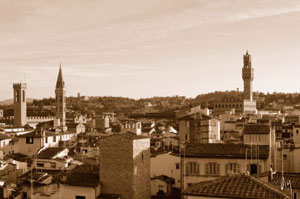 Florence is a unique shopping paradise that offers products of ancient handcrafted tradition and modern fashion talent.
For over 400 years and since the days of the Medici, Florentine artisans have been renowned masters of many materials, such as gold, ceramics, iron, wood, bronze, marble and textiles.
This historical artisan tradition is still alive today in the workshops (botteghe) in the center and Oltrarno district of Florence.
Your native Florentine guide will open these workshop doors for you and reveal a world of craftsmanship and preciousness that most believe had long since disappeared.
In addition to these ancient treasures, Florence shopping includes an exciting and modern variety of the most famous Italian designer's boutiques and showrooms. You will be enchanted by their sophisticated displays of luxurious, contemporary clothing, accessories, leather garments, shoes, bags, and jewelry. All are made with extraordinary care, illustrating the creativity and talent of Italian fashion designers.
Each tour is personalized according to the client's requirements. Before your tour your guide will contact you to discuss your interests and objectives. Then a time-efficient itinerary will be carefully planned.
Of course, help will be offered with all of your tax-free documents and shipping needs.
Services not available on Sundays.
Price starting from 25 euros per person