Details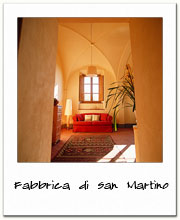 La Fabbrica is designed for those who feel the need for contact with nature To those who want to get away from it all for a time, we dedicate our small herd of cows and donkeys...
The two apartments are Il Timo and Il Pesco. Both apartments are fully equipped with everything you need to be comfortable, in the kitchen, bedrooms and bathrooms, including a barbecue for outside activities. The apartments have indipendent entrances for privacy.
In restoring La Fabbrica, we sought to retain the former structure, its rustic nature and simplicity. The floors, the beams, the woodwork are all original, and its materials and colors are restored to reflect their everlasting beauty. Care was taken to select furniture from the original period and to restore it to its original quality while giving high levels of comfort.