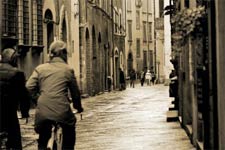 Guided Lucca bike tour
DESTINATION: Lucca centre
BIKE: city bike
TOTAL KM: about 5/10 km
TERRAIN: asphalt
ACC. CLIMB: 0 m
TYPICAL PROGRAMME:
- a licensed tourist guide will show Lucca biking through ancient medieval streets and having a great view of the city centre riding on the historical walls
LENGHT: 3 hours
DEPARTURE FROM: Lucca centre
details and prices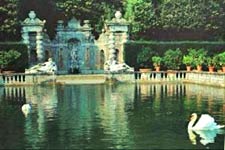 Villas' easy bike tour
DESTINATION: historical villas close to Lucca
BIKE: hybrid bike
TOTAL KM: 20 to 30 km
TERRAIN: asphalt/large dirt road
ACC. CLIMB: 0 to 100 m
TYPICAL PROGRAMME:
- biking along Serchio river on a large dirt road, we arrive in the historical villas area, on the foot of Lucca hills, rich in vineyards and olive grove.
Here you can choose to visit historical gardens and villas, as Villa Reale, Villa Grabau or Villa Oliva.
LENGHT: 4 hours
DEPARTURE FROM: Lucca centre
details and prices
DESTINATION: Lucca hills
BIKE: hybrid bike
TOTAL KM: 25 to 50 km
TERRAIN: asphalt/large dirt road
ACC. CLIMB: 250 to 1200 m
TYPICAL PROGRAMME:
- start from the bike shop
- biking along Lucca and the walls
- uphill and downhill in Lucca countryside between hilltop villages, vineyards and olive grooves.
- combinable with:
wine tasting (see bike and wine).
lunch in a typical trattoria, winery or farmhouse
LENGHT: 5 hours
DEPARTURE FROM: Lucca centre
details and prices
Each Bike tour can be coupled with lunch.
...biking Lucca

Lucca countryside is the ideal setting for bike tours and it is easily reachable from the city centre.
Thanks to Serchio river's cycle-lane, infact, you can avoid road traffic and get to the country in a little time!
Our bike tours are dedicated both to people who are not "expert cyclists" but want to enjoy Lucca from a different point of view, and to mountain bike lovers. In both cases we'll try to make you live your journey as a complete experience, enjoying nature, local food, wine and Italian culture.
We propose different kind of tours depending on the itinerary hardness and on the possibility to combine biking with tasting typical food and wine.
We suggest easy excursions by bicycle along Serchio valley, until the nearest farmhouses and wineries at the foot of the hills, for who wants "to taste " the countryside in a different way.
Who desires longest itineraries with more demanding climbs, can try the tour along "Colline Lucchesi" wine road.
Each tour is planned by our expert cycle guides, being very careful about cyclist safety; every bycicle (city bike, hybrid bike, mountain bike, road bike) is insured and is hired with type-approved helmets.
Not Ordinary Ways is partner of a professional bicycle shop in Lucca which supplies us with every kind of bike and cycling product.
We advise people interested in bike tours to bring sportswear, but you can also turn to our partner bike shop for all you cycling-matter needs and, of course, come and meet us in our Lucca agency for every kind of information and questions.
See also:
Bike itinerary example