Lucca wine tour and olive oil tasting
Tour in
Lucca countryside
, along farmhouses,
wineries
and ancient villas, tasting excellent extra-virgin
olive oil
, quality
wines
and
typical food
.
The perfect "blend": our mixed wine tour
DESTINATION: Lucca hills and Montecarlo
TRANSFER: Private minivan up to 8 seats (bigger on request)
TYPICAL PROGRAMME:
A delightful trip to the countryside north of Lucca. Our experience and our customers reviews and appreciation made us understand that the best wine tour is the one able to engender various sensations. So, like a real wine maker we blended our best different ingredients to try to have a perfect tour: one winery on Lucca hills doc, where you can taste the typical Tuscan vines as Sangiovese and Vermentino, and one winery around Montecarlo where traditional French grapes as Sirah, Merlot and Chardonnay are cultivated. An old family winery and a more modern cellar, modern technologies and ancient traditions...and the famous extra virgin olive oil produced in this area...what else? ....everything coupled with typical salumi, cheese, bruschetta in both the wineries to have a right coupling for red and white wines with food and be pleased about all.
DEPARTURE FROM: Lucca area
TIME: 9.45 am - 3.45 pm
Custom program on request
details and prices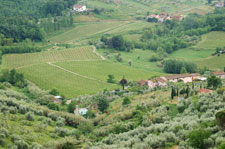 ...tasting "Colline Lucchesi" and
"Montecarlo" wines...
People know Lucca because of its countless churches, medieval buildings, Anfiteatro square and above all for the ancient atmosphere you can feel walking along the narrow streets inside the walls. And that's more than enough to come to visit this enchanting city.
But not everybody know that Lucca is surrounded by a marvellous natural landscape rich in beautiful hills, ancient villas, centuries-old olive groves, vineyards and stone parish churches with lofty bell-towers.
Rich in minerals and 16th century family traditions, the hills of Matraia and Montecarlo that surround the medieval-walled town of Lucca are a natural amphitheatre of terraces that help create unique and distinctive wines and olive oils of noble character. A mild climate, given by the surrounding heights protecting from the northern cold, contributes to the creation of a strong, healthy wine with high sugar content and intense bouquets. This is the land where the DOC wines "Colline Lucchesi" and "Montecarlo" are produced.
So, Lucca countryside is the ideal area for an uncommon wine tour, visiting small farms producing wine and excellent extra virgin olive oil, where you can be surprised in seeing some horses, ponies or sweet donkeys taking care of the natural fertilization and weeding of the olive groves and of the vineyards. The Colline Lucchesi wine road includes small almost unknown hilltop villages as Matraia, S.Gennaro, Petrognano up to Montecarlo and the hills of Porcari and Altopascio.
Montecarlo is a typical medieval village placed on the hill that overlooks Val di Nievole and Lucca's plain. Since the Middle Ages, when the cities of Florence, Lucca and Pisa battled to control the territory and up to the unification of Italy, Montecarlo's area has always been deep-linked with the cultivation of vines and olive trees. Montecarlo's white wine was very appreciated by the Medici family and the Popes, and it was among the first wines to obtain the "DOC" appellation in 1969.
Montecarlo's wine comes from a mix of Italian and French grapes, as our vineyards are the result of local Trebbiano vines and other vines imported from Bordeaux, Rodano and Bourgogne during the XIX century. As these imported vines have been staying in Montecarlo's area for more than two centuries they are now considered as native.
Number of persons
2
3
4
5
6+
Price per person
€ 180,00
€ 155,00
€ 130,00
€ 115,00
€ 105,00
PRICE INCLUDES: tour by minivan up to 8 seats, guided visit and wine and oil tasting in the first winery, guided visit and wine and oil tasting in the second winery, foods, taxes. In this tour all costs for wine tasting, foods and guided visits are included. No surprises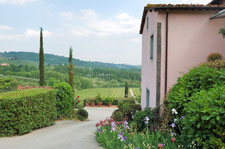 A typical wine tour usually starts in the morning from Lucca or your villa visiting 2 farms/wineries.
Farmers and the managers often love welcoming personally guests to their farms, explaining all the wine producing process, from the vineyard to the cellar, as the oil producing process from the olive grove to the oil mill.
After the estate guided visit you will taste wines they produce coupled with salami, prosciutto, parmigiano, pecorino cheese, bruschetta, al tyoical Tuscan fresh foods.

All our tours are driven by licenced drivers with private minivan 7-8 seats and other minibus 16-22-30 seats on request
our favorite WINERIES in Lucca and Montecarlo
Fattoria di Montechiari – Montecarlo (Lucca)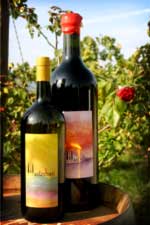 The Montechiari estate is located on the summit of a hill within the town district of Montecarlo. This winery has been producing since 1978. Very little time considering the fact that in this area wine has been produced for many centuries. Their vineyards are spread over almost 66 acres; 25 acres of vineyards are divided into small plots to take advantage of the sheen and the opulence of the grounds. These alluviums soils are very distinctive and specific and represent a "speciality" of these hills as a conductor. The French grape varieties have always been an integral part of the tradition of Montecarlo, and this is why Montechiari estate decided to reintroduce them with the sole intention of producing innovating wines such as Chardonnay, Semillon, Pinot Noir, Cabernet and Merlot, which now are cultivated together with the Tuscan noble grape the "Sangiovese Grosso". Cellars are located at the centre of the Estate, under the owners' mansion. After a meticulous selection, grapes are gently crushed and then left to ferment in temperature controlled stainless steel tanks. After the fermentation has slowly finished, the new young wine is then left to mature into small French oak barrels, some of which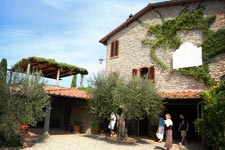 are selected for their different size depending of the type of wine and the native character of the grape variety. The Chardonnay will remain in oak for a period of 6 months. The ageing process for our red wine will instead take more time; this time in much smaller oak cask , the typical French "Barriques" and can take up to 16 months. The malolactic fermentation will also be induced during these maturing periods and normally will end inside the casks. The final period of ageing for all of our wines takes place in the bottle .
(usually between 8 to 12 months before release.)
Fattoria Colle Verde – Matraia (Lucca)


The Colle Verde Estate was assembled in the 16th century by Tomas Guinigi, a scion of one of the leading families of Lucca during the medieval and renaissance periods. Colle Verde produces 100% of the grapes used in its wines in its own vineyards located in Matraia, an area included in the appellation 'Colline Lucchesi' (Hills of Lucca). The 35-acres of vines lay on a wide valley dropping from 984 to 328 feet above sea level. Shielded by the Apennine Mountains from the harsh Tramonte winds blowing down from the North, the estate's vineyards benefit from a distinctive microclimate further mitigated by mild breezes blowing off the Mediterranean sea which lies just 17 miles to the West. The present boundaries of the vineyard was first laid out in 1948, and it has since undergone 2 major replantings: currently the vineyard is planted primarily with S.Giovese and Trebbiano grapes which are both representative of Tuscany most traditional grape varietals. Additional varieties include Syrah and Chardonnay - grapes that have both become 'traditional' in the area since they were introduced to Lucca by Napoleon about 200 years ago - and Grechetto, a white grape whose origins go back to the Etruscan Age and is primarily used to produce our 'Vinsanto'. The location for each variety is determined by the physical characteristics of the land: sandy and

pebbly soils for the whites, clayey and loamy soils for the reds. The winery - built partly above ground and partly underground - dates back to the beginning of the 16th century: since then, every year for nearly 500 years, a new vintage wine has been nurtured within these walls