Giorgi flat - Lucca -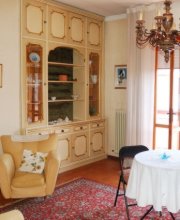 Giorgi is a large apartment placed outside the walls, with 4 bedroom, 2 bathroom, a kitchen, and a nice living-room with a large terrace facing Monti Pisani.
This flat is about 1 kilometre from the city centre and it is easily reachabile with the public bus service or a fifteen minutes walk.
It is a perfect solution for travellers with own car because it has a private garage and a private parking in the residence' area.