Welcome to a not ordinary way of travelling! We young and dynamic team proposing great ideas for your stay in Tuscany. A virtual window on our loved land, where we live every day. Thanks to our actual presence in the region we are able to have daily news, full control of each situation and to guarantee a certain flexibility and a direct assistance. We believe that travelling is not only moving from a place to another to see the largest number of things. So every proposal in our website is selected and thought to let you taste slowly and pleasantly Tuscan way of life. Our project now continue also with our brother website www.tuscanbike.it as both part of TLS srl company.
Notordinaryways.com website manager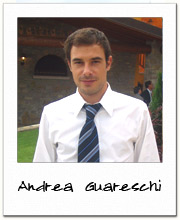 Andrea Guareschi
After having been working for years in Florence in the field of tourism, Andrea is now an essential member of Not Ordinary Ways staff.
His passion for travels is perfectly combined with photography, in which he is an expert and his main hobby, discover new places by bike..
He is the website manager and works everyday to create the best proposal and make Lucca and Tuscany be known in the best way.