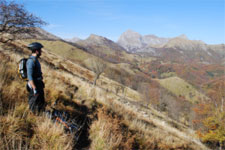 Garfagnana mtb tour
We know several tracks in Garfagnana and Apuan Alps. Orecchiella , Matanna , Sumbra, Corchia, Devil are some of the tours; each of them has different distinctive features and positive or negative aspects, depending on season, position and men's behaviours.
Here is a general description for all tours:
DESTINATION: Garfagnana-Apuan Alps
BIKE: mountain bike
TOTAL KM: 30 to 53 km
TERRAIN: dirt road - jeep road - single tracks - Alpine paths
ACC. CLIMB: 800 to 1600 m
ACC. DESCENT: 1200 to 1800 m
DIFFICULTY: Good skills required for steep ascents and technical descents. Some short part of trekking (depending on your skill)
SKILL LEVEL: High
FITNESS LEVEL: High
LENGHT:4 to 8 hours

details and prices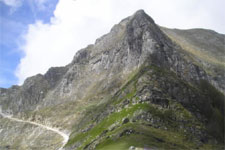 IMPORTANT:Differently from other Not Ordinary Ways' bike tours, for mountain bike tours in Garfagnana we need a quite long transfer to the starting point, both for persons and for bicycles. For these reason you need to reserve these tours several days before.
But considering we organize tailor-made tours, depending on requests and tourists taste we can deecide to take the little train going through Garfagnana and start the tour from the main villages.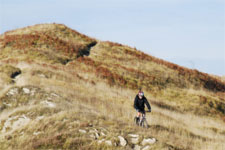 WEEKEND & HOLIDAYS biking in Garfagnana We organize mountain bike weekends and holidays in Garfagnana and Lucca to give you the time to feel the wild spirit of this land biking freely and tasting great food. Have a look at our holidays page for more info HERE
...real mountain bike in Tuscany

...a wild mountain bike tour
An adventure made of biking on crude paths and trekking up to the height.
Biking off the beaten paths, in Northern Tuscany mountain sceneries, through jeep tracks, single tracks and Alpine paths to reach unuspected meadows where horses, cows and goats are free to graze.
The enchanting wiew off the sea on the west, the high peacks of Garfagnana on the North-East and Lucca Valley on the South is one of the landscape you should be lucky to see during our tours.
Having a friendly pic-nic and relaxing on a pure and fresh habitat, just a few meters from Alps' peaks is another great experience you can't miss.
This is true mountain biking in Tuscany.
These aren't large dirt roads 20-meters-from-asphalt, usually proposed by tour organizers and farmhouses in their fake-mountain bike tours in Tuscany.
This is for MOUNTAIN bike and nature lovers. This is for tourists in a good fit, able to climb and go downhill through technical single tracks off medium-high difficulty.
Garfagnana and Apuan Alps
If you love adventure and are looking for a place off the beaten tracks, where you can meet with a wild habitat, ancient villages and genuine people, Garfagnana is your ideal destination.
Lain to the north of Lucca, this territory is characterized by two mountain ranges, Alpi Apuane, famous for their white marble quarries, where Michelangelo chose stones for his sculptures, and Appennini, where wolves and eagles live.
The Serchio river and its affluents flow along this territory, rich in ancient bridges, nice villages (Barga, Castelnuovo, Vergemoli, Castiglione Garfagnana, and many others), pathways for biking, trekking and horse riding.
Castles and fortresses dominate landscape (ex: Fortezza delle Verrucole ), while caverns and hermitages make you understand how many people found here their own retreat.
Natural environment and mountain paths are controlled and protected by Alpi Apuane Park and Orecchiella Park.
Garfagnana is really a surprising land that can give you enchanting atmospheres, delighting you not only with its natural treasures, but also with its traditional cookery, gastronomy and wine.
Garfagnana and Apuan Alps PHOTOS
Ask us for tours' detailed information and cards
Here is an example tour card: